In April 2001, when I was in sixth grade, the date of my most anticipated game release of my life (up until that point) arrived: Animal Crossing for the Nintendo GameCube. My brothers and I had watched advertisements for it on TV and on PR VHS tapes sent to us via Nintendo Power subscription. I was utterly charmed by the idea of the game and thrilled that our parents bought it for us knowing that we hadn't shut up about the title since first learning about it.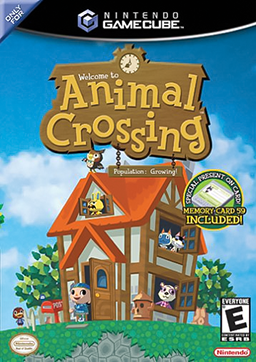 Even though all three of us played it quite a bit, I was definitely the one most attached to it often waking up at 6AM and playing off and on until evening, checking-in on my villagers, running around town on errands, sending letters through the post office, using cheat codes found online. It was the most I played any video game since the Christmas I received my own GameBoy Color and a copy of Pokemon Silver.
In fact, I still have my copy of the game including the memory card that came with it. My town was called Enihsnus (which is "sunshine" backwards... lol) and even though my GameCube internal clock no longer functions properly, it was such a joy to boot up the file and see all those familiar faces: Rocco, Goldie, Dotty, Alfonso...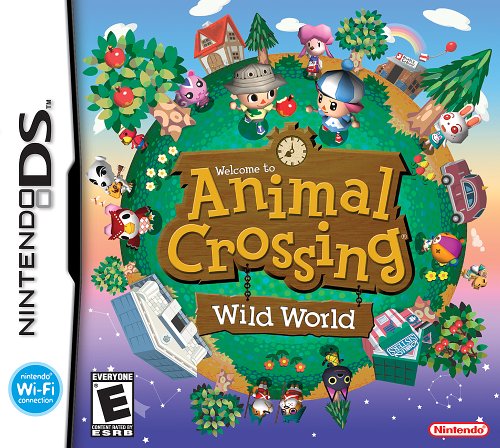 When Wild World release, it was a game changer because I could play in BED. No more sitting two feet away from our TV on the floor! No more annoying my brothers because I was hogging the TV! It was also the first time that I was able to play online with friends and bonded with my cousin over playing because I could take my copy to his house. We would play on the couch and talk about our favorite aspects of the game.
Even though my dad bought us City Folk, the game didn't stick with me. I didn't want to go back to playing on the TV and the Wii Mote was never comfortable for me to use.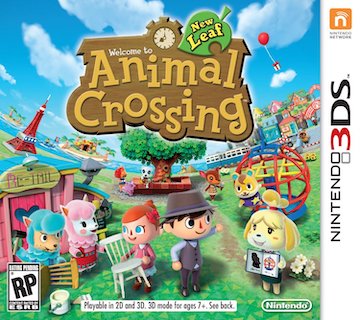 But when New Leaf was announced... I immediately went out and bought a purple 3DS in anticipation of the game. My excitement was so infectious that my then girlfriend also bought a 3DS and I gifted her a copy of the game so we could play together. As with New Horizons, this game came out during a difficult period of our lives. Being able to visit each other on days when we couldn't be physically in each other's company gave me so many warm and fuzzy memories. I have tons of screenshots saved from the years of playing together that I will archive here eventually. It's hard to go back to the game given the practical life upgrades in New Horizons, but I still treasure it as a perfect game.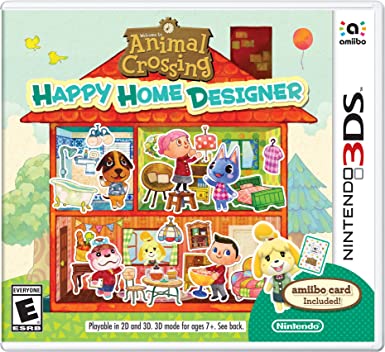 I was so surprised when an additional title was announced for the 3DS! I remember a lot of people were upset that this wasn't a "proper" sequel to New Leaf, but I honestly loved this game. One of my favorite parts about playing The Sims is decorating their homes and this scratched that itch in a much cuter aesthetic. I also appreciated that I could pick it up and put it down at a leisurely pace. You can imagine that I was over-the-moon when they announced that Happy Home Paradise would be DLC on the Switch. It equally reinvigorated my interest in playing as HHD.
I love Animal Crossing! It has been a consistant presence in my life since it first released. I have two different Isabelle plushes, an Isabelle enamel pin, two Animal Crossing Colourpop palettes, Sanrio Amiibo cards, and so so so many memories.
Updates to Come:
New Leaf - Home Archives
Happy Home Paradise Showcase
Moomindale Island Tour
Villager Dreamies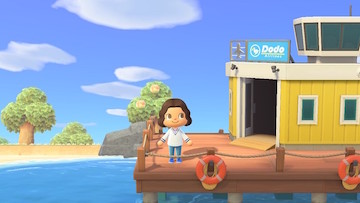 19 March 2020 - Founding Moomindale

When I preordered my tickets for the Nook Inc. Deserted Island Getaway Package, I had no idea how badly I would need a vacation. My year had taken such an unexpected turn and spending time on a little island with cute friends was just what I needed.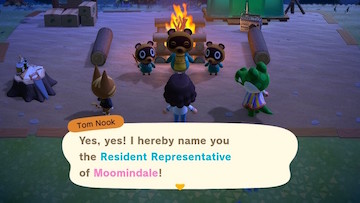 It turned out that I wasn't the only one on this trip, either! I met a cool cat named.. well, Katt and an alligator named Boots. Together, we tidied up the grounds, picked peaches for a celebratory toast, and named our island Moomindale! The three of us would grow to be a pretty tight trio, sharing resources, stories, and care for the island.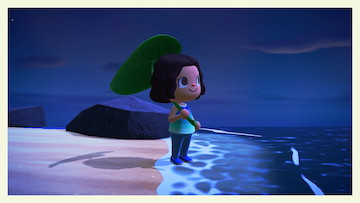 March 2020 - New Islanders, New Visitors

The first few days were packed with methodical tasks: checking in with Katt and Boots to get to know them better, foraging around for resources, constructing useful furnishings/tools/deco, and lending my services to Nook to help pay for my lodgings.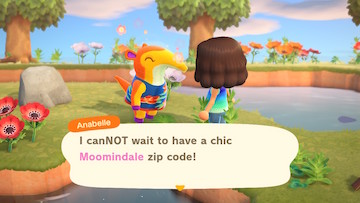 One of my first big tasks was to visit another island. During this first exploration, one of what would turn out to be so many over the next few months, I met an anteater named Anabelle. We had such an animated discussion that I invited her to come back to Moomindale.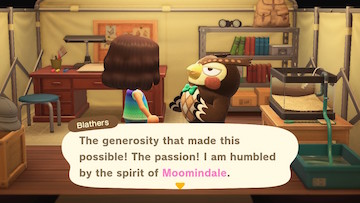 Another project that I set to working on was sending off specimen to Blathers, a researcher from across the waters. He was so impressed by what I had sent along that he set up camp right in Moomindale! After donating enough fish and insects, he agreed to set to work on developing a more formal establishment - so long as donors were able to foot the cost of construction, of course.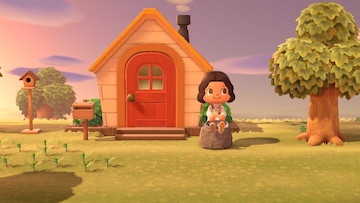 When I wasn't busy assisting with island projects, I carved out my own cozy home. I picked a spot where two rivers met before emptying into the ocean. I liked being able to hear the sound of both bodies of water - the river behind me and the ocean up ahead through the palms trees.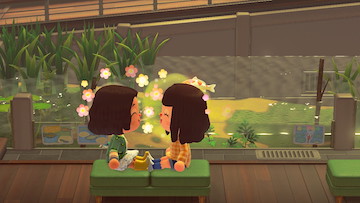 Eventually, I was able to convince my wife to come visit Moomindale (though she's since moved on to her own island, El Balcón)! We went on a date at the newly constructed museum and I was able to show her around all of the great stuff I had found during my first week.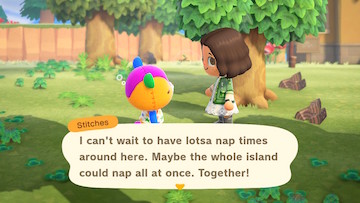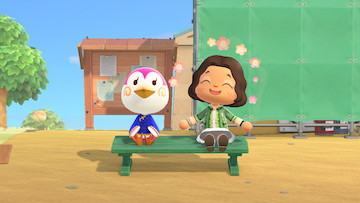 After Anabelle, I invited two more villagers to move in: Stitches and Midge. It was felicitous to meet Midge on one of my travels because I knew her from the very first experience with Animal Crossing. Now, nearly a decade later, it brought me so much joy to help build the place she will call home for the foreseable future!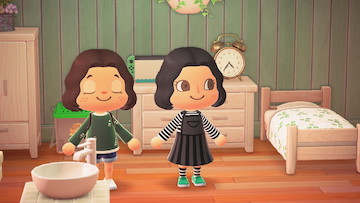 I'm not a super social person irl, but during those months of lockdown, it was so helpful to be able to fly out to other people's islands or inviting them to mine to take cute pictures together. Here I am with one of my closest friends. I love the outfit they are wearing while puttering around my bedroom together.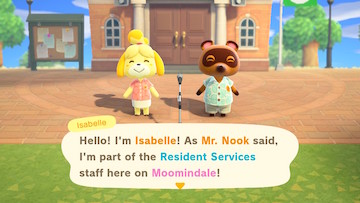 It was such a delight when Isabelle joined the staff at Resident Services! We worked side-by-side for years in our New Leaf town, Home. She was such a big help polling villagers around town for feedback on how to make improvements to Moomindale so it felt more like a collective effort. Though if you ask me, Nook and Isabelle definitely deserve their own vacation; who works 24 hours a day??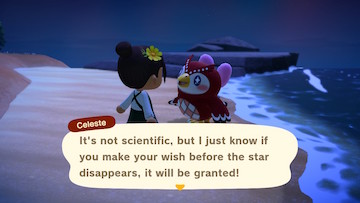 One night, I was collecting sea shells that washed ashore the beach when I bumped into Celeste - Blathers's younger astrolomer sister. She's such a sweetie with a delightfully curious spirit. She taught me all about wishing on stars and gave me a new crafting recipe to try.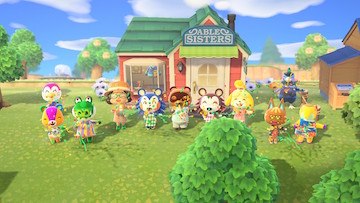 We continued to make additional improvements to Moomindale, including opening a shop for the Able Sisters. It felt so good to be able to change up my wardrobe more often after a month of wearing similar clothes every day.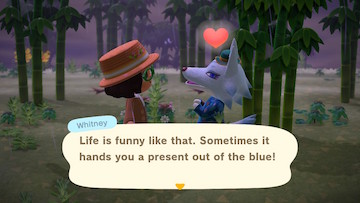 My last update for the first month: I invited Whitney to come around Moomindale (and harvested a bunch of bamboo!) She's one of my favorite villagers and still lives on the island to this day, though she has thought about moving a few times here and there... I think she'll stick around a while longer yet :)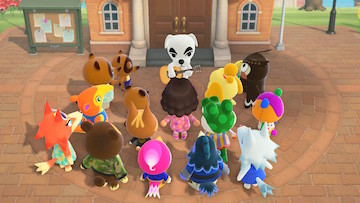 Spring 2020 - New Faces, Upgrades

Spring was full of opportunities in Moomindale. Villagers moved in and moved away. We continued to expand our venues, decorate, and form fast friendships. It was also a period where a lot of other people went really hard with their gameplay, which honestly felt a little alienating as a longtime player who loves to take things day-by-day.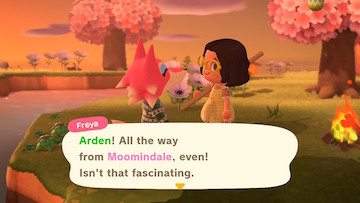 Audie moved in the day after Whitney. With Ike and Ken moving in around the same time, we had a full roster of villagers and were officially at capacity!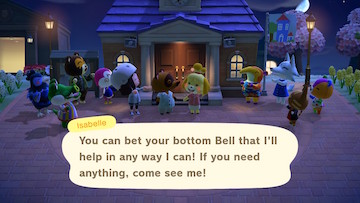 Isabelle officially decided to become a permanent fixture in Moomindale and not long after that, we had our first visit from K.K. Slider. That first concert was one of the best and I'm sure Nook was thrilled to see his idol performing for all of us after all this hard work!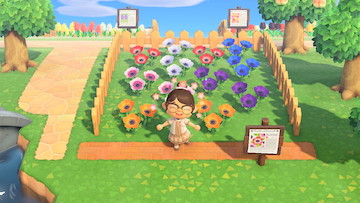 With a five-star island in the books, I took more creative liberties with decorating zones around my island. This botanical garden led up to our museum for the longest time and was tended for by Midge and Whitney.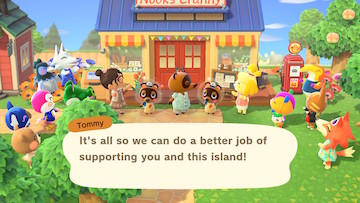 Given my *cough* expenses to decorate the island, we were able to pitch in for an upgrade to Timmy and Tommy's shop. Nook's Cranny has always provided a vast array of goods for us and I was a frequenter seller day and night (thanks to the dropbox.)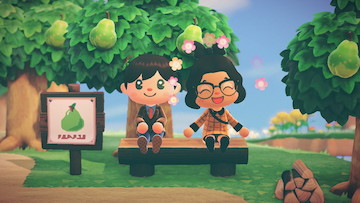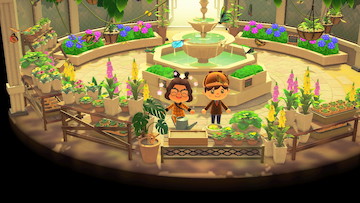 In May, I was visited by my brother and gave him the grand tour of the island. We stopped by the orchards for selfies and of course clowned around in the museum together.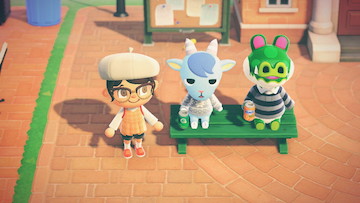 Earlier, I mentioned that some villagers would come and go, but when Sherb moved in, I knew I wanted him to stay for a long while. He became close friends with Boots right away despite being so much lazier than his fitness-focused pal.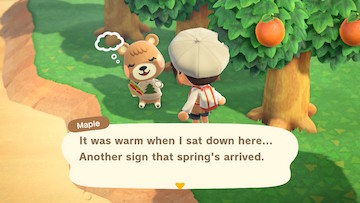 Maple is another villager who moved in. I know, I know... I have a strong preference for lazy and normal villagers, but I can't help it! They're so sweet and cute. Maple moved into the orange groves during her first year in Moomindale. Even though I associate her with apples, she enjoyed picnicking on the beach.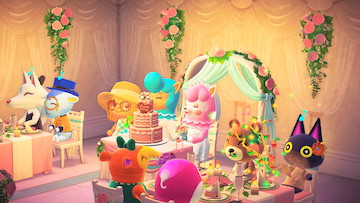 In May, I was surprised by a visit from Reese and Cyrus. They wanted to celebrate their wedding anniversary and I was more than happy to help them out! We took tons of lovely photos over the course of several days. Here, you can also see that Kiki moved in that spring. She looks so much like my cat Toffee with her big OwO eyes.
Summer 2020: My birthday!

As the weather warmed in Moomindale, my birthday was fast-approaching. I continued to go map out little vistas around my town and went on more virtual dates with my wife. Here we are stargazing at the peak outside where the museum was moved.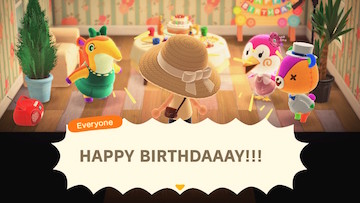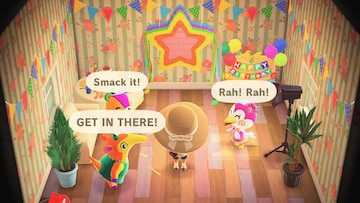 But the biggest event by far was celebrating my birthday in town! When I first woke up, I was (loudly) greeted by Anabelle, Midge, and Stitches. They had baked me cupcakes, prepared a piñata, and got all dressed up. Then I went on a tour around town checking-in with everyone else who had equally lovely things to say.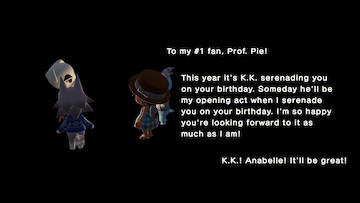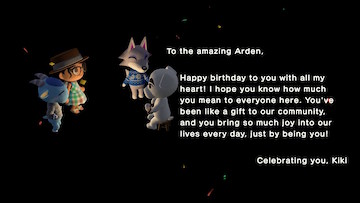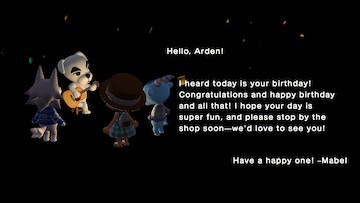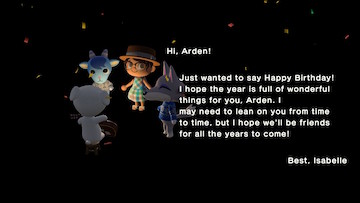 And the birthday wishes kept coming when I received a special performance from K.K. Slider with Sherb and Fang (another villager who had recently moved in.) Gotta love Mabel getting in a quick ad for her shop during the event ☆*:.。.o(≧▽≦)o.。.:*☆
About a week later, I had my first dream using Luna's services. My island didn't feel like much for other people to visit just yet, but I enjoyed peeking at other people's dreams for inspiration. I wasn't ready to start using island construction tools to significantly alter the landscape of the island in its original state... but I would get there eventually.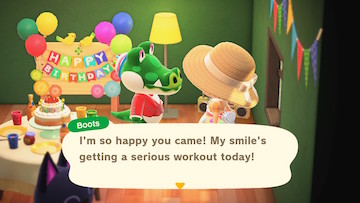 In August, we celebrated another birthday: Boots! One of the original villagers. Katt had already moved away at this point pursuing her big dreams, and Anabelle would do the same shortly after, but I'm glad that this gator stuck around.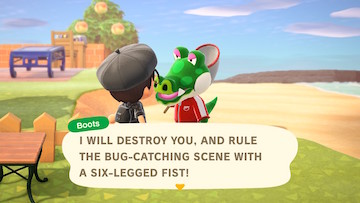 Even IF his competitive streak meant he sometimes went way hard when we were rivals during the Bug Catching Contests haha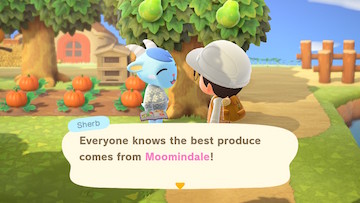 Fall and Winter 2020 - Festivities and Transitions

The changing seasons kept me invested in the daily goings-on in Moomindale even though work was getting much more stressful. The temptation to retreat into my cozy island was very real, especially with all the new decorations for fall.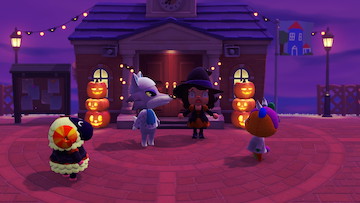 Halloween was so much fun on the island! I rarely celebrated it on Home in New Leaf, but seeing everyone staying up late and acting spooky was fun! I ran around all night collecting and distributing candy with jack-o-lanterns glowing ominously in the background.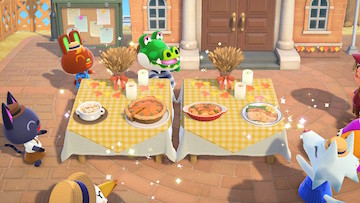 In November, the weather was beginning to chill. Due to work, I was tending a little less often to the island, but everyone seemed to be getting along well in my absence. O'Hare had moved in relatively recently - my first smug villager in a while. He assisted me with getting the feast together so we could all celebrate with good food and company.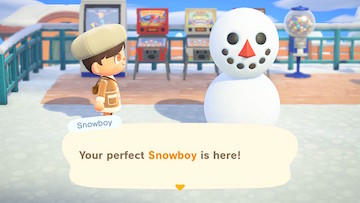 Snow fell heaily in Moomindale not long after that. It was wrapped in a cool, soft blanket. It took me several tries before I could make my first perfect Snowboy, and honestly, I don't think I've made another one since then (¬_¬;)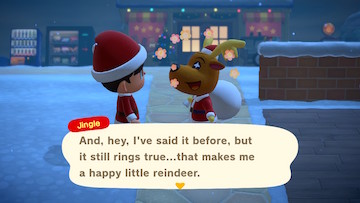 I set a reminder so I could catch Jingle when he came to town! I also dressed up so I could be his helper for the day. Everyone had worked so hard in my absence, that I wanted to make sure to take some time to return the favor.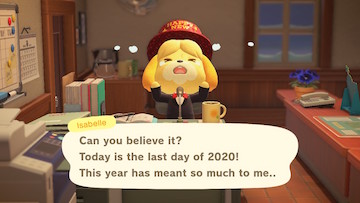 When the first year came to a close, I could hardly believe it for a variety of reasons. 2020 felt like an insurmountable challenge and suddenly it was about to be over.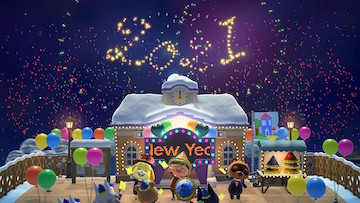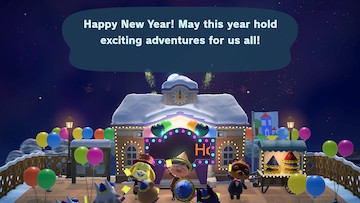 And it truly did feel like a victory to reach the end together.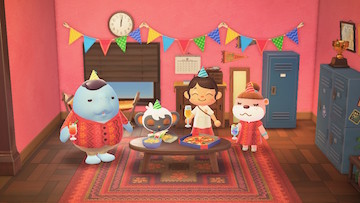 2021 - Happy Home Paradise and Island Renovations

Truthfully, the next year was actually much harder. Even though vaccines rolled out, and I still had employment, there were significant challenges throughout the year and I visited Moomindale far less often. When Happy Home Paradise came out, and friends online started playing again, it provided with me with a retreat - a little comforting space where I could cope with the darker days.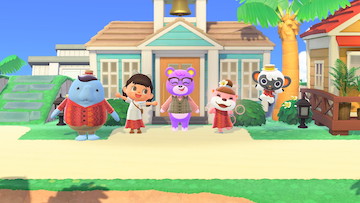 My co-workers - Lottie, Wardell, and Niko - were a regular presence as I came by to work at Paradise Planning every morning. The first designs were a little bare bones, minimalist if you will, but we celebrated several milestones together including the Moomindale Schoolhouse.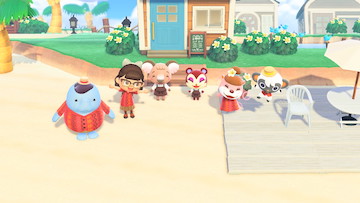 The inaugural opening of Café Moomin with services provided by Melba and Pecan who look adorable in their matching outfits.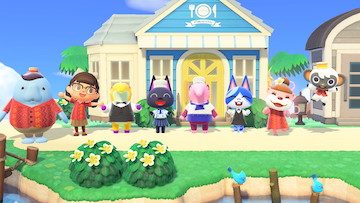 Casa Moomin featured our very own Kiki as the head chef and Anabelle even returned to assist as one of the servers. Every afternoon when I would stop by after my shift, Kiki would give me a new recipe to try out.
We also opened Boutique Moomin and Marina volunteered to be our head staff member. To be honest, I still prefer to do my shopping at our local Able Sisters, but it's nice to stop by and check in on this lovely lady every now and then.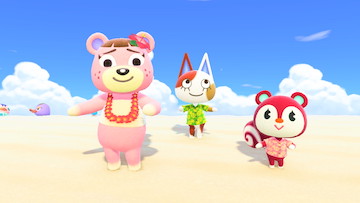 The new camera features on my Nook Phone also let me document more candid photos at Happy Home Paradise and Moomindale.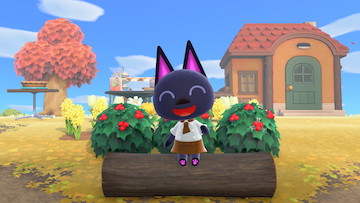 Here's Kiki at her new home location: the spot where I started out at the mouth of the two rivers! When I relocated my own place up the mountain, I knew I wanted to move her here in a field of yellow flowers and beside a substantive yard where she could add her own mini-cafe.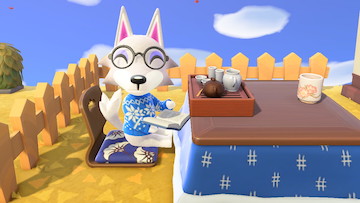 Fang puts up a grumpy front, but he's an old softie inside. This is a photo of him at his old house location before he moved down the mountain to live on a cliffside closer to the beach.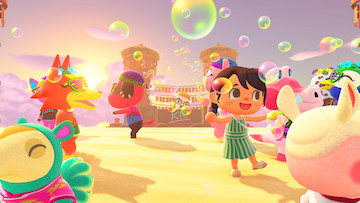 Our business on the island was a smashing success and we partied hard with everyone on the beach with D.J. K.K. blasting music for all of us to boogie down. It was so nice to see all of the villagers I had assisted knowing that they were happy with the vacation homes.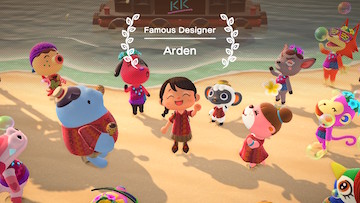 Especially knowing that I had led my comrads to victory and that they were celebrating right by my side.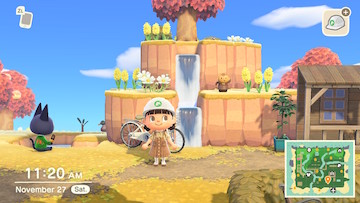 Content with my hard work, I finally felt ready to renovate Moomindale. It was time to put all of my research to good use, raising cliffs, waterfalls, adding little touches of environmental enrichment here and there.
The funny thing is, once I designed my first nook, everything else came together quickly. I was so inspired by various islands I visited through the Dream Suite, taking notes of spots they made and the impression I wanted to give when people first walk through the archway to our humble community.
It's been a while... almost half a year now, but I am eager to get back to Moomindale. To give the island a refresh for what remains of spring and open the gates again to new visitors, new memories.