When I was in elementary school, my mom would apply makeup on me for special occassions such as award ceremonies using the the products from the 1992 Caboodle Barbie.
The tiny lipstick was a frosty, pink and the eyeshadows were equally pastel, shimmery peach and purple shades. I rarely wore the shadows, but the lipstick I remember vividly.
Despite this story, makeup always felt forbidden to me. Nobody in my family prevented me from wearing it, but almost nobody at school wore anything more than a subtle flick of liner and mascara. Girls who wore a discernible lip were called slutty (not joking.) And while I was far from tomboyish (mostly because I sucked at doing anything physical), something about wearing makeup felt wrong to me in the same way that my long hair felt wrong to me and dresses felt wrong to me.
In college, I flip-flopped from this aversion to all things femme to trying on femininity as a costume for a performance in undergrad socialization. I started wearing tights and dresses regularly instead of the t-shirts and slacks I wore in high school. But I was still sort of embarassed to admit to my secret online obsession: lurking makeup forums, blogs, and, eventually, YouTube channels.
I have no recollection of how I stumbled upon makeup spaces, but I spent so much of my free time perusing swatches, contemplating which shades I would choose for myself, snooping people's "what's in my bag" content. When I finally did start buying makeup, I kept them in a box and was too afraid to actually wear anything noticeable even though that's what appealed to me the most.
Discovering the concept of nonbinary identities, having language to apply to some of the gender feelings I had been unknowingly wrestling with for years, helped me give myself permission to start creatively expressing myself through makeup. Even though, I still held off until I moved out of my parents house to wear more than neutral eyeshadow or lipstick, I overcome such a huge mental block. For the longest time, I viewed wearing makeup and dresses as ignoring this part of me that didn't align with how other people perceived me. As I became more comfortable referring to myself with neutral language, makeup itself began to feel more neutral. This is adornment for my face - something all kinds of cultures have used regardless of gender for thousands of years. Now I wear rainbow eyeshadow and glitter and dramatic blush all without batting an eye (except on purpose.)
I'm someone who has always admired artistry in other people, but lacked the coordination and vision to really tap into that myself. Makeup artistry is the first creative endeavor aside from writing (which I honestly have a shaky history with at this point) that I feel confident in and enjoy.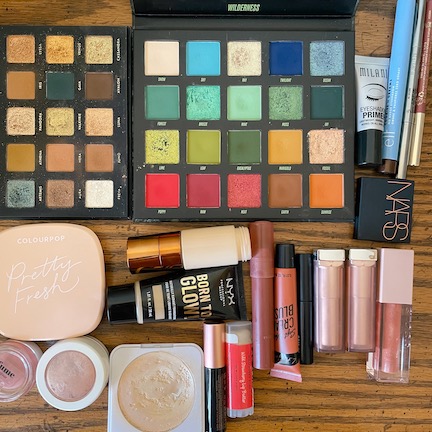 8 August - 14 August
It was so hot this week that I actually didn't feel up to bothering with something as colorful as the Beauty Bay Wilderness palette. Everything I packed was used at least once, howeer, and I even hit mega pan on my Mirrored Moonlight Spectral Highlighter by Phytosurgence.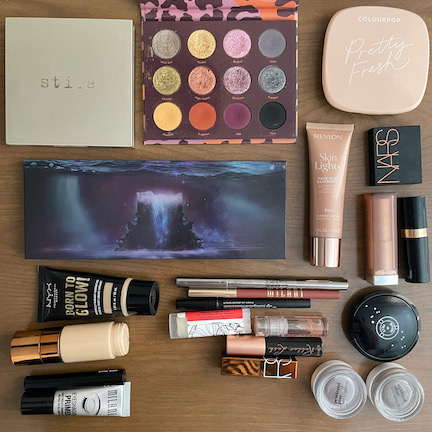 1 August - 7 August
I'm still in the process of settling into my parents's house, but since I'm not driving across the country in a heatwave, I could reasonably choose more than one eyeshadow palette to experiment with, especially since these smaller palettes actually fully zip inside my makeup bag. I wore everything I packed at least once, except for the Rituel de Fille Alchemist Aurum Highlight Intensifier. I might shop my stash for it again in the future, but I don't want to fuss with chunkier glitter particles.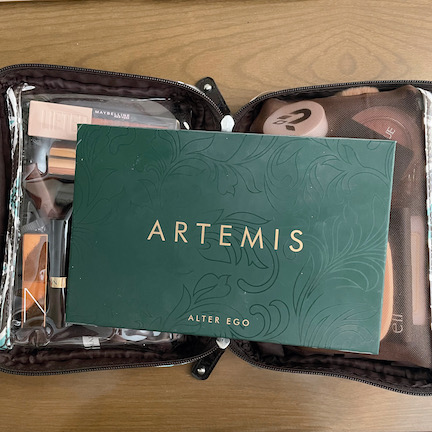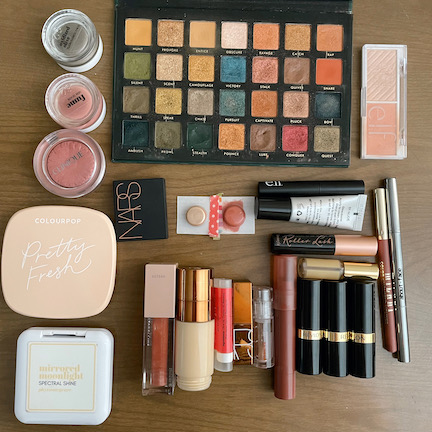 July Travel Makeup
Gearing up to the last week of the month, I pulled out products that I anticipated would be useful to have on hand for a four-day trip down the west coast. Even though we were in the midst of a heatwave, and I wasn't exactly inspired to do a full face each day, I used a surprising amount from what I selected! The Alter Ego Artemis palette has a good range of shadows for quick and simple looks, especially those swampier, mossy, olive greens. I'm also head over heels for the Milani Spice lip Pencil. It's just a perfect shade for my lips and worked with just about every lip product I pulled out (of which, all but two were used at least once.) I think the only thing I neglected to use at all was the mascara and rollerball perfume. Pretty good for my first attempt at curating products.



Eventually, I'll include a breakdown of the makeup that I own and maybe will write mini-reviews for some of the standout pieces?